Desegregation of Dade County Public Schools. AT&T Miami-Dade County African-American History Calendar, 1997/1998. | The Black Archives History & Research Foundation of South FL, Inc.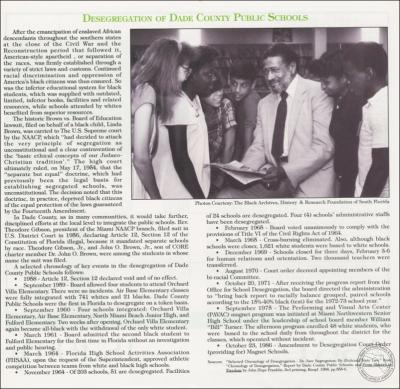 1997_1998_017a_Desegregation_Dade_County_Public_Schools (JPEG Image, 180.07 KB)
Download Original File

Request hi-res copy
Title:
Desegregation of Dade County Public Schools. AT&T Miami-Dade County African-American History Calendar, 1997/1998.
Date:
1997/1998
Description:
Long before the word "mentor" became a fixture in our language, Leroy A. Smith was demonstrating the qualities that it defines. In a 27-year law enforcement career which he began as one of a handful of black City of Miami police officers, and during his 17 years as a distinguished Boy Scout troop leader, he has touched the lives of many younger men with encouragement and an extraordinary example of distinguished, determined service, despite the many the many obstacles he faced.
In 1944, five black men were hired as the first black officers in the Miami police department. By 1955, when Leroy Smith and Franklin Duty were hired as the first black sergeants on the force, little had changed in the duties of black officers or the way in which they were treated. They could enforce the law only in black communities and only against black people. They also were not allowed to attend the police academy.
Sgt. Smith carried out his duties in an exemplary fashion. However, owing to the climate of the era, he was not promoted to the rank of 1st Lieutenant until 1966, eleven years after he first joined the force. An outstanding officer, Smith contributed his ingenuity to the force in ways beyond that of basic police work. As one example, he initiated the effort to secure portable radios for the department in the 1960s, following a study of two-way radios. As a result, Miami became the first major police department in the Southeast to utilize radios.
Despite the meritorious service over many years provided by Smith and his peers, the Miami Police Department was slow to change its treatment of its black officers. It held them all in the classification of patrolmen, regardless of their capabilities or proven skills. To end this discriminatory treatment, Smith and others initiated a class action suit against the department which, after a protracted fight, was won in 1975 with the support of the National Organization of Black Law Enforcement Executives (NOBLE). Leroy Smith soon thereafter became the first black appointed to the rank of Major (administrative) in the department.
In the 1960s, Smith galvanized an initiative to recruit blacks to the police department, called "Operation Badge." As results of this effort, two blacks, Perry Anderson and Calvin Ross, eventually served as Chiefs of Police during the 1990s. Homer Lanier became the first black Captain on the force, also a result of the "Operation Badge" campaign. In another, similar demonstration of Major Smith's determination to encourage others to follow his lead, he successfully fought to win the appointment of Joel Scott, a man with eight years' experience in the military police, to the Miami Police force. Scott, despite his shining military record, was initially denied appointment here because he was ¼ inch shorter than the minimum height required of Miami officers.
Himself a veteran of the U.S. Navy who served during World War II, Leroy Smith also shared his experience and wisdom with boys in the black community for many years as a leader of Boy Scout Troop #77, headquartered at St. Agnes Episcopal Church in Overtown. This gathering point and character building opportunity for young black men included a drum and bugle corps that performed at parades and other events throughout the black community and continually recruited many new members. In 1965, in recognition of his long and distinguished service in scouting, Major Smith was awarded the Silver Beaver Award, the highest scouting honor given to a civilian. He also received the Pioneer Scouter Award in 1995.
Born in Miami in 1926, Smith is a graduate of Booker T. Washington High School ('44) where he was an honor student and student athlete. He later attended Hampton Institute (University), where he majored in architecture and engineering.
Source: Interview with Leroy A. Smith by Wilbert T. Holloway, unpublished, 1996.
ID:
1997_1998_017a_Desegregation_Dade_County_Public_Schools
Repository:
The Black Archives History & Research Foundation of South FL, Inc.
Found in:
Rights:
Permission to publish materials must be obtained in writing from the Director of The Black Archives, History and Research Foundation, Inc. An image license agreement must be signed prior to recording or copying images.
See Also: