The Black Archives Welcomes You!
THE BLACK ARCHIVES HISTORIC LYRIC THEATER TO HOST NATIONALLY-RECOGNIZED FAMU STRIKERS DANCE TROUPE WITH MAHOGANY DANCE THEATRE FOR ONE NIGHT ONLY PRESENTATION OF "LIVING LEGENDS, 25 YEARS IN DANCE" ON SATURDAY, APRIL 26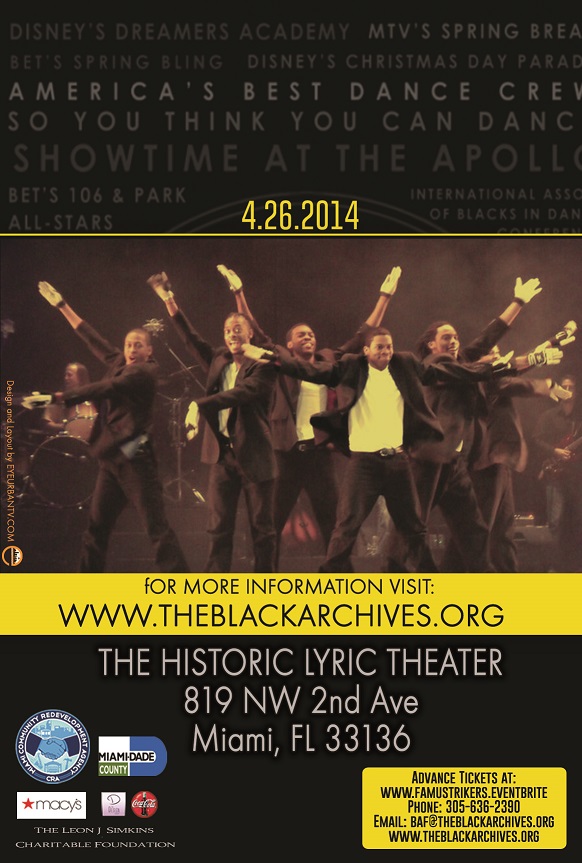 IT'S LYRIC LIVE, CLICK ABOVE TO GET YOUR TICKETS NOW!
FAMU Strikers Dance Troupe featuring Mahogany Dance Theatre presents Living Legends, Celebrating 25 Years in Dance on Saturday, April 26, 2014 hosted at the Black Archives Historic Lyric Theater, South Florida's oldest performing arts venue.
The Black Archives, sponsored by the Southeast Overtown Park West Community Redevelopment Agency and Miami-Dade County, present the FAMU Strikers and Mahogany Dance Theatre for a one-night only presentation of the dance group's traveling anniversary performance, "Living Legends, Celebrating 25 Years of Dance."
Saturday, April 26, 2014 at 8 p.m.
Advance Ticket cost: Grand Stage Seating $20; Orchestra $25; VIP Balcony $35
The Black Archives Historic Lyric Theater is located at 819 NW 2nd Avenue, Miami FL 33136
Parking is located on NW lot of 9th Street and 2nd Avenue North side of the building
Event parking is $2.
The Black Archives proudly presents the FAMU Strikers and Mahogany Dance Troupe as part of the organization's mission to work with local and national partners to revitalize Overtown through the arts, the preservation of culture and by empowering our neighbors through employment opportunities created by events the new facility. The famed dance company performs diverse dance styles including Hip-Hop, Ballet, Modern, Jazz, Tap and African works. The group has been featured on television's "So You Think You Can Dance?," "America's Best Dance Crew," "Showtime at the Apollo," "BET's Spring Bling" and others.
For more information please call 305-636-2390, visit us at www.theblackarchives.org, or email us at baf@theblackarchives.org. For Tickets go to www.famustrikers.eventbrite.com
























The Black Archives, History and Research Foundation of South Florida, Inc. was founded in 1977 by Dorothy Jenkins Fields, Ph.D. Dr. Fields, historian and archivist, made it the mission of The Black Archives to not only preserve the documentary and photographic history of black South Florida and black Miami, but to enrich the present and protect the future through the revitalization Miami's former black business and entertainment district, Overtown.

To Access our collections, schedule a research appointment or request an image use license, please visit our archival collections page. Click here to learn more.