ADD YOUR NAME TO THE HISTORY OF OVERTOWN














This is a once in a lifetime opportunity to add your name to the history of Overtown. By naming a seat in Overtown's historic Lyric Theater, the oldest theater in Miami, you ensure the future of this historic theater and play a part in enhancing our community's way of life.
"Take Your Seat!" and enjoy having your name, or the name of the person you wish to honor, inscribed on a plaque mounted on an elegant auditorium seat. A Lyric Theater name plaque makes an excellent gift and is an indelible tribute to a family member or loved one.
Your plaque will let other patrons know that you have supported the renovation, expansion, and grand opening of The Black Archives Research Foundation Historic Lyric Theater Welcome Center Complex.
Your donation is tax deductible as permitted by law.
Seat sponsors are invited to visit The Black Archives to have your picture taken in an authentic Lyric Theater seat. All pictures will be added to The Black Archives website.
Please note that seat sponsors must still purchase tickets to any performance at the theatre, and are not guaranteed seating in chairs bearing their names.
Click HERE for a seat sponsorship form.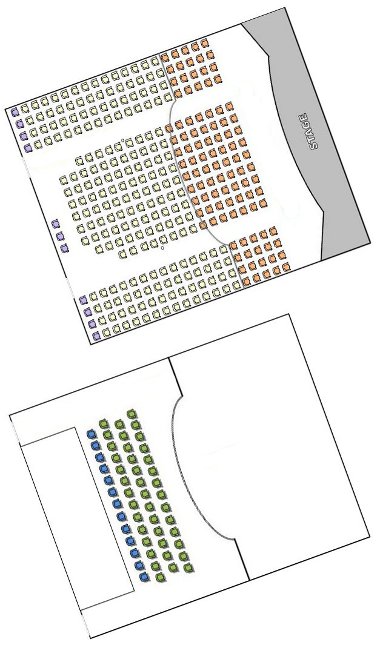 Green = Upper Level VIP Seating ($1000)
*Blue = Upper Level VIP Wall Seating ($850)
Orange = Orchestra Seating ($750)
Yellow = Grand Stage Seating ($500)
*Purple = Grand Wall Seating ($350)
*Limited Wall Seats are available in the Grand Stage Seating and Upper Level VIP Seating areas. Please call for availability before sending in payment. Please note that the plaque size and location will vary.